Jean-Michel Sahut
Professor of Finance, Amiens School of Management & Cerege - University of Poitiers
Postal Address: Amiens School of Management, 18 place Saint Michel, 80 000 Amiens, France
Email: [email protected]
Dr. Jean-Michel SAHUT is a Professor at Amiens School of Management. He teaches Financial Market, Financial Analysis and ICT for Finance (e-banking, electronic payments.) for engineering and management students. Previously he was professor of Finance at Telecom & Management Paris Sud and director of the RESFIN Laboratory (studying impacts of New Technologies on Finance). He has a wide international experience of executive education, in France and abroad, especially in Eastern European Countries. He is co-author of the Mobilix simulation game for the mobile market. He is also an expert for the 7th EU Framework Program. He has published more than twenty articles about Electronic Finance in peer review journals : The Journal of Internet Banking and Commerce, International Journal of Business, La Revue du Financier, Finance & Technologies, Banque et marches, Gestion 2000, Banque Magazine, etc.
© Sahut 2008
Visit for more related articles at Journal of Internet Banking and Commerce
Abstract
Despite the strong and consistent increase in the use of electronic payment methods worldwide, the diffusion of electronic wallets is still far from widespread. Analysis of the failure of electronic wallet uptake has either focused on technical issues or chosen to analyse a specific scheme (Stalder, 1998). This article proposes a joint approach to analysing key factors affecting the adoption of e-wallets by using the 'Technology Acceptance Model" (Davis, 1999) which we have expanded to take into account the cost of using e-wallets. We use this model to analyse Monéo, the only French electronic wallet still in operation.
Keywords
Electronic wallet, TAM, user acceptance, adoption, diffusion, bank
Introduction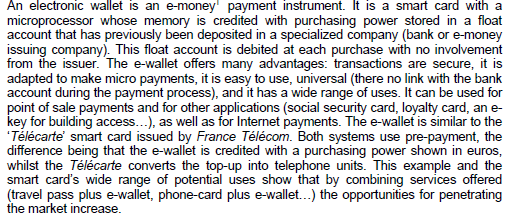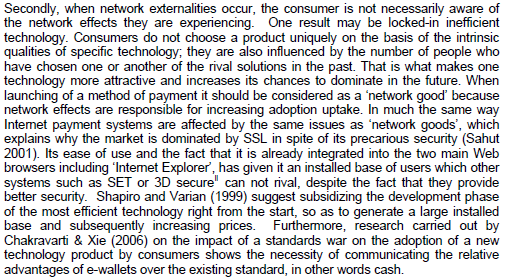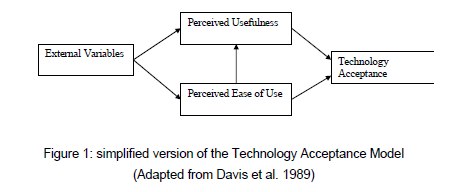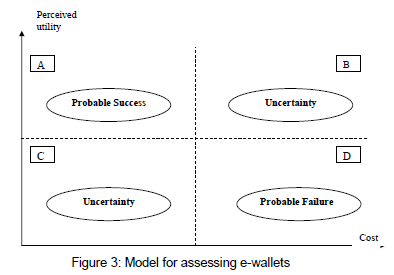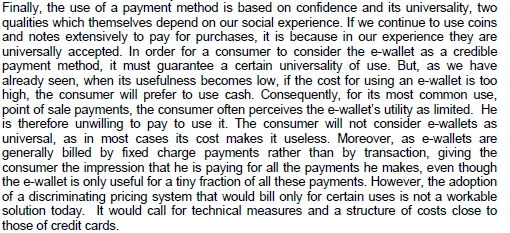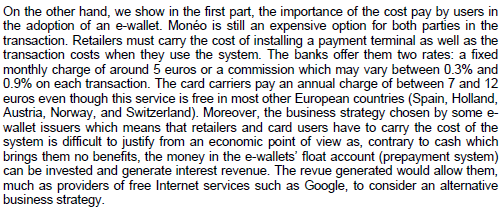 References
ALLEN F., A.M. SANTOMERO, "What Do Financial Intermediation Do?", Journal of Banking and Finance, vol. 25, 2001.
BOURNE H. & SZMIGIN I., "Electronic cash : a qualitative assessment of its adoption", International Journal of Bank Marketing, 1999
CHAKRAVARTI A. & J. XIE, "The impact of standards Competition on Consumers : Effectiveness of product information and advertising formats", Journal of Marketing Research, Vol.XLIII, May 2006
CHAU, P.Y.K, «An empirical investigation of factors affecting the Acceptance of CASE by systems developers », Information and Management, vol.30, n°6, 1996
DAVIS, F.D., « Perceived Usefulness, Perceived Ease of Use, and User Acceptance of Information Technology », MIS Quarterly, vol.13, n°3, 1989
JAMES Y.L. Thong, Wai-Man WONG, Weiyin HONG, Kar-Yan TAM, « Determinants of User Acceptance of Digital Libraries: An Empirical Examination of Individual Differences and System Characteristics », Journal of Management Information Systems, Winter 2002, vol.18, n° 3, 2002.
KATZ M. & C. SHAPIRO, "Network Externalities, Competition, and Compatibility", American Economic Review, Vol.75, N°3, 1985
KATZ M. & C. SHAPIRO, "Technology Adoption in the Presence of Network Externalities", Journal of Political Economy, Vol. 94, n°4, 1986
KATZ M. & C. SHAPIRO, "System Competition and Network Effects", Journal of Economic Perspectives, Volume 8, Number 2, Spring 1994, p. 93-115
NAKAYAMA Y., MORIBATAKE H., ABE M., & FUJISAKI E., " An electronic money scheme ", IMES discussion paper series, Bank of Japan, 1998
SAHUT JM, "Why does SSL dominate the e-payment market?", Journal of Internet Banking and Commerce, vol 9, n°1, Feb 2004 (translated by Galuszewska)
SHAPIRO C. & H. R. VARIAN, Economie de l'information, De BoeckUniversité, 1999
VERDIER M., « Retail Payment Systems: What do we learn from Two-Sided Markets? », Communications & Strategies, n°61, 2006
VAN HOVE L., "The New-York City Smart Card Trial in Perspective: A Research Note", International Journal of Electronic Commerce, Vol.5, Num.2, Winter 2000-2001